Welcome to djk Music Services. Offering the best in DJ/MC service, karaoke and uplighting. Based in Caledon and servicing Caledon and the surrounding areas. With over 150 weddings and events since it's birth in 2012, djk Music Services might be a new company but it has years of experience behind it! We all know how important music selection is at an event and that is where we come in. From indoor to outdoor events and from the finest venues to rustic barns let us take control of the music at your event and keep your guests entertained and dancing! Making it a memorable event for all!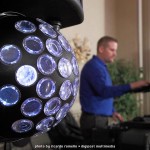 About the DJ
From vinyl to digital from house parties to weddings Kevin has been performing at venues and entertaining guests since the early 90's. Taking a break in 2000, Kevin went back to mobile DJing in 2012 and is loving it. Kevin is accomplished in any genre from the 50's to current with a superb ability to read a crowd in the most professional way.
The key concepts that set djk Music Services apart from our competitors are
Clean, reliable and professional DJ with the ability of mixing
Licensed 
Online & printable wedding form/planner
The best in equipment and lighting
Large music library
Dance floor lighting included in every quote
Text request
Spare equipment on hand
Pre event meeting at a location convenient for you
 What we do
Indoor and Outdoor Events
Weddings
Jack & Jill/Stag/Bachelorette
Adult Birthdays/Anniversaries
Corporate Functions
Theme/Holiday Parties
Club or Pub
Karaoke
Uplighting
and more
What we play
Dance
Top 40
Hip Hop & R&B
Country
Rock
Oldies
Disco & Motown
House
Club
and more
Where we go
Peel Region
Dufferin County
Halton
Venues Performed at
The Old Barber House (Mississauga)
Brampton Golf Club (Brampton)
Caledon Golf & Country Club (Caledon)
Millcroft Inn & Spa (Caledon)
Blue Springs Golf Club (Acton)
The Royal Ambassador (Caledon)
Liuna Gardens (Hamilton)
The Fisher Mill (Cambridge)
Knights of Columbus Halls (Hamilton)
Conestoga Place (Kitchener)
Estates of Sunnybrook (Toronto)
Annandale Golf & Curling Club (Ajax)
Pipers Heath Golf Club (Milton)
Burlington Golf & Country Club (Burlington)
Caledon Estates (Caledon)
Ellas Banquet Hall (Toronto)
Vasca De Gama Cultural Centre (Brampton)
Veky's International Cuisine (Listowel)
Greystone Golf Club (Milton)
Black Creek Pioneer Village (Toronto)
Slit Barn  (Cambridge)
The McNeil Room (Toronto)
Houleys Bar & Grill (Grand Valley)
Rockway Vineyards (St. Catharines)
St. Joseph's Ukrainian  Catholic Church (Oakville)
Teatro Conference & Event Centre (Milton)
Conestoga Place (Kitchener)
Harbour Convention Centre (Oakville)
Professors Lake Conservation Area (Brampton)
Newmarket Lions Club (Newmarket)
Red Chevron (Guelph)
Tony Rose Arena (Orangeville)
Masonic Lodge (Orangeville)
Holiday Inn (Oakville)
The Westin Bristol Place (Toronto)
Heart Lake Conservation Area (Brampton)
Township of Amaranth Recreational Hall (East Garafaxa)
Kings Garden Banquet Hall (Toronto)
Grand Victorian Convention Centre (Mississauga)
Oakville Arena (Oakville)
Oakville Conference & Banquet Centre (Oakville)
Galt Cambridge Lions Club (Cambridge)
Victoria Park East Golf Club (Guelph)
Savannah Golf Links (Cambridge)
Granite Ridge Golf Club (Milton)
Art Gallery of Hamilton (Hamilton)
Michelangelo Banquet Hall (Hamilton)
Terrace on the Green (Brampton)
Delta Hotel & Conference Centre (Guelph)
Grand Valley Arena (Grand Valley)
Many private residence backyard weddings & parties from Grimsby to Muskoka
Hiring a DJ: Points to Consider
When you plan a party of any sort, your objective is to ensure that your guests have a good time, period. Your choice of entertainment, particularly if you are considering a DJ, is crucial to that end. Who you choose for your wedding reception or special event will have a greater degree of effect than any other factor, such as food or location. The DJ you choose is a direct reflection on you. Here are some important points to remember when you interview a DJ company.
Prompt return of your phone calls or Emails: You should expect to get a call back or an Email back within 24 hours. Many DJ's are out working and may not be able to return your call within an hour or two.
Willingness to meet with you and present his/her service: Will the DJ try to meet with you soon, or is he/she just trying to book the date sight unseen? Is their material neat and professional looking, and is their presentation organized and informative?
Is the price too good to be true? It seems that the DJ is often the last service chosen, after much of the budget is expended on a venue, food and clothing. This often leads brides and party planners to shop for the cheapest price possible because of a lack of resources. This often backfires when holding out for the lowest price. However, if you have adhered to the guiding principals noted here, you will know to avoid services that have a rock bottom price because they will not be able to display the level of quality and attention to detail that EVERY client deserves!
Do you LIKE the person that shows up? There is NOTHING worse in the world than having to do business with someone you do not like. Choosing the person who "feels" right is the most important factor in picking the right entertainer for your party or reception. The DJ you choose should be very open about what he/she can do for you and should volunteer information and "show" you that knowledge base.
Is the person knowledgeable about your type of event? There are all kinds of DJ's. Club DJ's, wedding DJ's, Rave DJ's…the list is endless!! Can the DJ you interview handle your type of event? Ask the DJ how many events of your type that he/she has done.
What sort of documents does the DJ use to procure your business? In a good interview, the DJ should show you several documents. First and foremost is a planner. This planner should impress you enough to the point where you begin to understand that the DJ you are hiring is a professional, and is capable of handling your event. A sample copy of the CONTRACT to be used should be available as well as a schedule of pricing information.
Does the DJ have a viewable music database? It shows you what sort of music he or she has available. Many DJ's do not use music lists, others do. In some fashion, you the client, need to be assured that the DJ you hire not only has a sizeable collection, but has a variety of music, especially for wedding receptions, where many different styles of music and guests will be in the same room together.
Does the DJ use professional grade equipment? If the DJ does not have pictures of his or her gear, you should ask to set up a time to see the equipment or see pictures of the DJ's set up. Although there are many fine home stereo equipment components made, they are not suitable for commercial or repeated use and varying room conditions. The DJ should be able to tell you what he/she uses and characterize the equipment as professional grade.
Will the DJ offer to meet with you AFTER signing the contract to plan your event? A professional DJ is ALWAYS willing to discuss your event at any time before the event starts, and should display the flexibility to accommodate changes and help you solve problems. Meeting your DJ to plan your event is of paramount importance to a successful event such as a wedding reception.
Will the person that you interview be the person that will perform at your event? This is THE most common complaint about the DJ industry today. The person you meet turns out NOT to be the person that actually does your show. Often, you are not made aware of this. Ask the DJ you interview if he/she will be the actual person performing, or will someone else perform the event. You need to know this UP FRONT before you sign a contract.
Consider this when pricing your DJ service: You should consider your DJ service an insurance policy that ensures that all of the other money you spend will not result in bad memories or a less than enjoyable occasion. You do get what you pay for. Good entertainment is NOT cheap, and cheap entertainment often is NOT good!! And yet many people will pay far more for a cake, flowers, or food than they will for the most crucial ingredient at a party – the music. When was the last time you saw a cake reading a crowd and spinning a CD, motivating a dance floor crowd, or making announcements in a dignified elegant way? Further, when was the last time you heard a guest tell you "Boy, that prime rib was great, I can't wait until I go to another party to have that again"? No, that DOES NOT HAPPEN. Instead, they talk about the music that was played, and whether they had a good time or not. The music is always what they will talk about and whether the DJ was any good or not.
Your DJ, if you have chosen a good one, will display many of the following skills and attributes before and at your event: – Party organizer – sound technician – Light technician – Ability to read a crowd and pick the right music – Flexibility to adapt to sudden changes – Follow the plan that you and he/she have worked out using the planner – Seamless continuous music at all times unless otherwise specified – Extensive library of music – Professional grade of equipment – Audience motivator – Ability to co exist and coordinate with other professionals at your event
By Bill Smith